Floor Plans for Real Estate Marketing: We provide photo-realistic 2D and 3D floor plan designs, 3D exterior & interior rendering views at an unbeatable price. We will create any 2D or 3D floor plan design for any of your imagination [provide us images / pictures / sketches / blueprints / or, CAD files]. Standard real estate photography can only give you so good of an image. Perspectives make it hard to completely get an accurate visualization of a property.  With a floor plan for real estate listings, your potential buyers can know exactly the layout of your listing.  They can also combine the floor plan with the images to know exactly where each image is taken. We do serve Real Estate Photographers across USA, Canada, Europe, Australia, etc. Our USP is Unbeatable Lowest Pricing (with fixed price options) without comprising the quality.
Submit Project Now: Starts at $49 Per Floor Plan | Get Custom Quote | Check Samples
Our Unbeatable Pricing: Floor Plans for Real Estate Marketing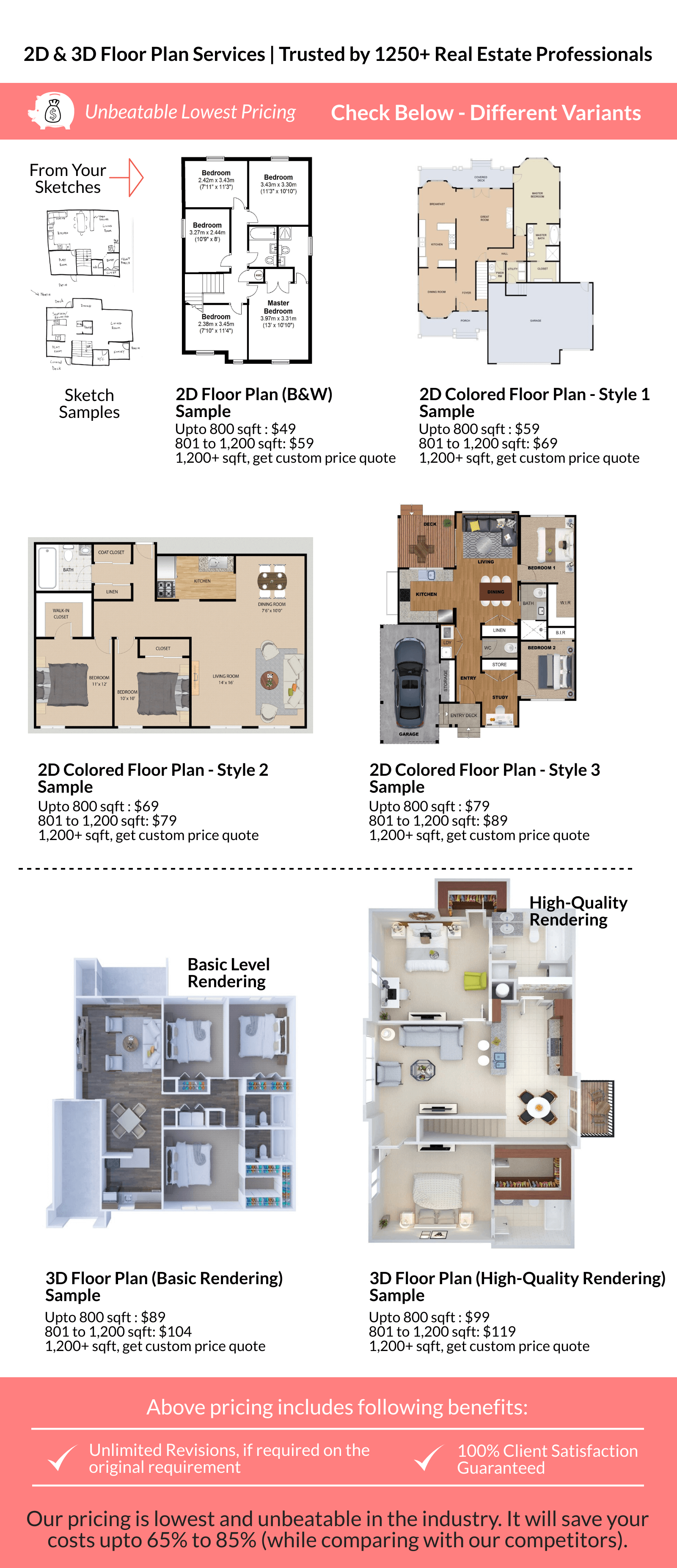 New! Click here to see the samples for all services. All Rendering Samples | 2D Floor Plan Samples | 3D Floor Plan Samples | 3D Exterior Samples | 3D Interior Samples 
How does it work? Floor Plans for Real Estate Marketing:
Share Your Floor Plan Design Request: To start with, you need to provide your project details like images / sketches / pictures / videos / CAD files, etc. Also, other important information like what exactly you are looking for: 2D/3D Floor Plans / 3D Exteriors / 3D Interiors, and their output format files.
Our Floor Plan Designing at Work: After receiving your requirements, our technical team will prepare the quote and we will share that quote (with price and delivery timeline) with you for your approval. Once your approval is confirmed, we will start the work.
Deliver Your Floor Plan Designs in 1-5 Days: We will deliver your output designs in 1-5 working days. In case, if you are in a rush, we can also deliver you much faster. We have Super Fast Delivery (1 Working Day) and Fast Delivery (2 Working Days) options.
Peace of Mind… Unlimited Free Revisions (If Needed): In case, if you require further modifications / iterations, we will provide you unlimited free revisions until you get 100% satisfaction with the final outcomes.

Why Choose Us? for Floor Plans for Real Estate Marketing
Unbeatable Pricing: At lowest flat pricing, you will get high-quality floor plan design. We have made our fees so low to ensure you enjoy maximum returns on your investment. Our goal is to help you build more income streams while focusing on your core business.
Unlimited Free Revisions: Our clients are entitled to have unlimited free revisions which come at no cost at all. Although, its very rare as we deliver accurate floor plan designs on the first shot. Revisions made as soon as they are requested for.
Quality: Experienced & Highly-Talented 3D Designers at Work
Time: Quick Turnaround at each Level; 24 Hours Delivery Available
Deliverable "100% Satisfaction Guaranteed" to Clients
Our Clients Say It Best! With HIGH QUALITY & Interactive 2D and 3D floor plan designs, we have served 450+ Happy Clients & delivered them out-of-the-box visual designs. Our Experienced & Highly Talented Designers are always committed to delivering PREMIUM QUALITY 3D floor plans with dedicated UNLIMITED REVISIONS support.
How Are You So Affordable? Many times, clients ask this question: "How you are so affordable?" It's simple. Our well – established customized processes, bulk amount orders and operational set-up in India allows us to keep our operating costs low and we love to share these savings on as an added advantage to our clients.

How Floor Plans are Important for Real Estate Marketing?
2D and 3D Floor Plans for Real Estate Marketing: A real estate listing contains a lot of information and pictures and as a real estate agent, it is important to know what to include. One of the best things that you can include on a real estate listing is a floor plan. In som,e cases a floor plan can even make the difference between making a sale and not.
Here are the reasons why floor plans are so important in real estate marketing and sales?
Visualization
When people look at a listing, they are interested in visualizing the property. Here, floor plan helps those viewing your listing to get a better feeling for what the listing is like.  It helps to make them feel like they are actually in the home and see themselves as being in the home.
Make A Listing Memorable
Another way that floor plans can be beneficial to a listing, is that they help the listing to be more memorable.  A floor plan often is looked at for more than a few seconds, helping to imprint it on the mind.  Then when the person is thinking back to your listing or just the listings they have seen in general, they are reminded of yours.  They can even recall a good portion of your listing.
Square Footage Accountability
If you are viewing a real estate listing that says it has 600 square feet, that gives you very little information about the actual layout of the listing.  It could be a 500 square foot studio with a 25 square foot closet and 75 square foot bathroom or it can have multiple rooms.  A floor plan helps potential buyers to view how square footage is actually distributed across a property.  This can make a huge difference in selling any kind of listing.
Planning
Floor plans for real estate also help potential buyers to know what they want to put where.  By being able to plan they know can be prepared to move in and know what they can and can't bring.  It also allows them to know what they need to buy for their new home.  Should the new buyer want to remodel or make alterations, floor plans also help them to plan for that contingency and they can even be used for in-depth planning.
Attracts Interested Parties
Before going to a listing, if a potential buyer sees the floor plan they are more likely to know if a listing is right for them or not.  This can help to catch more interested potential buyers.  Especially, when buyers seem to click through photographs so quickly.
Shows You Are A Professional
With how easy it is to get a floor plan for your property, it is expected that real estate listings will feature a floor plan.  Those agents that do choose to use a floor plan on their listings are often viewed as professionals because they are including all of the information they can about the house.  A company by the name of Research by Rightmove found that 1/3 of buyers would be less likely to even ask about a listing that didn't have a floor plan.
If you need a floor plan for your real estate listing, they can easily be produced by a company.  All you need to do is gather the measurements of each room, the location of each room, and send them to the company.  The process is quite easy for the remarkable product you end up with.
See how easy it is to get a floor plan?  With how easy it is, there is simply no excuse not to get one.  They provide a variety of benefits to your listing.  If that is not enough to convince you, Homegain performed a study into what part of a listing is most important.  Home buyers stated that floor plans were the 4th most important part of any listing they looked at. Can you really neglect something that important? Get designed your floor plans today.
Related Services: 3D Exterior Views | 3D Interior Views | Get Custom Quote | Samples