Floor Plans for Real Estate Agents: We provide high quality 2D & 3D floor plans,  3D exterior designs and 3D interior views at unbeatable price. We will create any 2D or 3D floor plan design for any of your imagination [provide us images / pictures / sketches / blueprints / or, CAD files]. It makes life easy for real estate agents when creating 2D or 3D representation of a property. Buyers and renters love it when presented with a detailed floor plan – they are most likely to buy/rent a property with 3D representation. We do serve mostly Real Estate Agents across USA, Canada, Europe, Australia and around 35+ countries across the world. Our USP is Unbeatable Lowest Pricing (with fixed price options) without comprising the quality. We always deliver HIGH QUALITY, PHOTO-REALISTIC & CREATIVE 2D or 3D floor plan design services.
Submit Project Now: Starts at $49 Per Floor Plan | Get Custom Quote | Check Samples
Our Unbeatable Pricing: Floor Plans for Real Estate Agents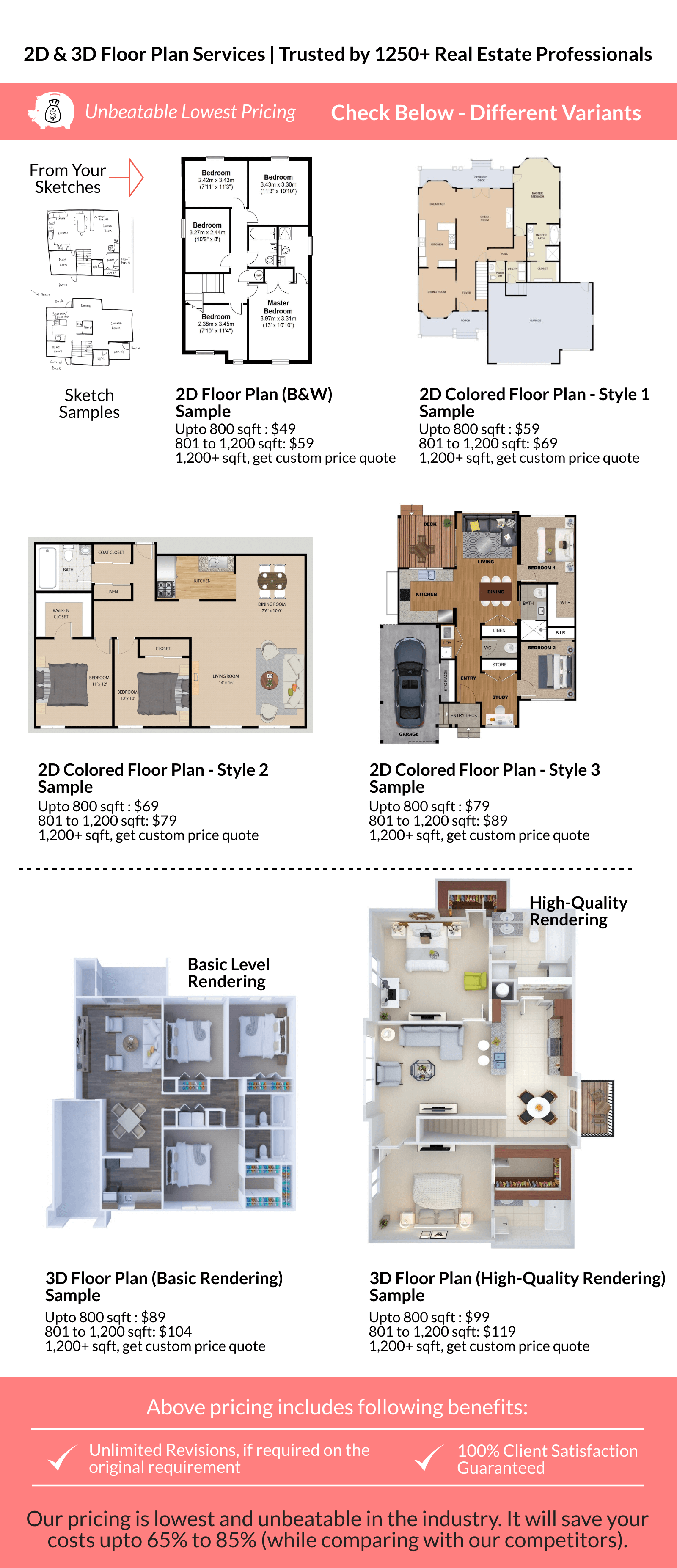 New! Click here to see the samples for all services. All Rendering Samples | 2D Floor Plan Samples | 3D Floor Plan Samples | 3D Exterior Samples | 3D Interior Samples 
How does it work? Floor Plans for Real Estate Agents:
Share Your Floor Plan Design Request: To start with, you need to provide your project details like images / sketches / pictures / videos / CAD files, etc. Also, other important information like what exactly you are looking for: 2D/3D Floor Plans / 3D Exteriors / 3D Interiors, and their output format files.
Our Floor Plan Designing at Work: After receiving your requirements, our technical team will prepare the quote and we will share that quote (with price and delivery timeline) with you for your approval. Once your approval is confirmed, we will start the work.
Deliver Your Floor Plan Designs in 1-5 Days: We will deliver your output designs in 1-5 working days. In case, if you are in rush, we can also deliver you much faster. We have Super Fast Delivery (1 Working Day) and Fast Delivery (2 Working Days) options.
Peace of Mind… Unlimited Free Revisions (If Needed): In case, if you require further modifications / iterations, we will provide you unlimited free revisions till you get 100% satisfaction with the final outcomes.

Why Choose Us? for Real Estate Floor Plan Services
Unbeatable Pricing: At lowest flat pricing, you will get high quality floor plan design. We have made our fees so low to ensure you enjoy maximum returns on your investment. Our goal is to help you build more income streams while focusing on your core business.
Unlimited Free Revisions: Our clients are entitled to have unlimited free revisions which come at no cost at all. Although, its very rare as we deliver accurate floor plan designs on the first shot. Revisions made as soon as they are requested for.
Quality: Experienced & Highly-Talented 3D Designers at Work
Time: Quick Turnaround at each Level; 24 Hours Delivery Available
Deliverable "100% Satisfaction Guaranteed" to Clients
Our Clients Say It Best! With HIGH QUALITY & Interactive 2D and 3D floor plan designs, we have served 450+ Happy Clients & delivered them out-of-the-box visual designs. Our Experienced & Highly Talented Designers are always committed to deliver PREMIUM QUALITY 3D floor plans with dedicated UNLIMITED REVISIONS support.
How Are You So Affordable? Many times, clients ask this question: "How you are so affordable?" It's simple. Our well – established customized processes, bulk amount orders and operational set-up in India allows us to keep our operating costs low and we love to share these savings on as an added advantage to our clients.

How Floor Plans are Important for Real Estate Agents?
Floor plans can be considered as one of the most important aspects, which can contribute towards the success of a real estate listing. From the recent studies, it has been identified that floor plans that are paired up with electronic floor plan listings have a better chance of selling when compared to others. Here is a list of few reasons that would justify the importance of having electronic floor plans in order to end up with success in real estate listings.
The floor plan can be used as a powerful tool when promoting a specific real estate listing. In order to get the attention of potential buyers, the real estate listing should be promoted. If the floor plan can be linked to the marketing campaign, it would receive more attention from potential customers. As per the statistical figures, potential home buyers are less likely to inquire from the listings that don't have a floor plan attached to. In fact, it has been figured out that floor plans are the second more desired feature that people expect to have in a real estate listing. This surpasses having a large number of photos about the property attached to the listing. Real Estate Agents
Floor Plans for Real Estate Listings
When purchasing a new home, people are always concerned to figure out the configuration of rooms in it. Then they analyze it with their preferences in order to determine whether it is the perfect option available for them to move forward or not. They think that the photographs attached to the real estate listing can be somewhat deceptive. That's the main reason why having a two-dimensional floor plan can deliver better results to a real estate listing, instead of high-quality photographs. Most interestingly, the homebuyers prefer to see 2D floor plans instead of 3D modeled interactive floor plans. With a 2D floor plan, homebuyers can quickly get a better understanding of what they can receive for the amount that they pay. Then they will be able to make the decision whether it is worth to spend their money on that specific listing or look for an alternative.
Attaching floor plans to the real estate listing would not only benefit home buyers. They can also be sent to the different types of vendors such as Home Depots, who work on creating the estimates to provide home remodeling supplies. On the other hand, contractors and designers will be provided with the ability to modify the plans in an interactive manner. They can simply add rooms, removal walls and add doors or windows as per the preferences of their clients.
As you can see, floor plans are in a position to deliver a variety of benefits to you, when you are going ahead with a real estate listing. Therefore, it is extremely important to attach an electronic floor plan when you publish the real estate listing and make it visible for the potential home buyers or investors.
If you are in real estate business, you must agree that the industry is fiercely competitive. To get ahead of the competition, you need to master the art of speedily and efficiently creating property representations.
Gone are the days of 2D representation, 3D representation is the in thing now. Your potential customers will be more willing to make a purchase if you can present them with a 3D representation of your property. You can upload the 3D presentation to your website, share it on social media or print it out for marketing purposes.
Thousands of real estate agents across the world recommend "Floor Plan for Real Estate". No matter how unique your needs may be, "Floor Plan for Real Estate" is up to the task.
Property development
To pull off a successful marketing campaign for your properties, you would really need the interactive floor plan renderings. Floor Plan for Real Estate makes it possible to take your prospects on a 3D virtual tour (3D Floor Plans, 3D Exteriors, 3D Interiors, Panoramic Renderings) within your property.
Provide a visual representation of your property even when it isn't built yet
Floor Plan for Real Estate will be your best bet if you are looking for the right tool to create an engaging 3D representation of your property. Our service offerings have been designed to make it possible for architects, realtors, and property sellers to efficiently create 2D and 3D floor plans in record time. Our solutions like 3D Visualization of Floor Plan with 3D Exterior and Interiors which provide an engaging representation of a property that is yet to be built. Good enough, you can conveniently upload the 3D floor plan renderings to your website for the whole wide world to see. Visitors to your website will get a chance to see the painting, furnishing and interior décor of your yet-to-be-built property. They can even take a virtual tour around your property. Our service offering makes it possible for you to display interior styling, flooring option and just about anything that gives life to a house. We are committed to delivering you sharable 3D photos of your property – a cost-effective option for developers and property sellers.
Related Services: 3D Exterior Views | 3D Interior Views | Get Custom Quote | Samples